Dance into Sobriety
Women in the VOA Texas Residential Treatment Center in San Antonio are Dancing their way Sober
SAN ANTONIO, TX-As you can imagine, living without loved ons in a substance abuse treatment facility for 90 days straight may present many emotional challenges for women. But the Volunteers of America Texas Living in Good Healthy Treatment program (L.I.G.H.T) in San Antonio has created a way for women fighting substance abuse to get healthy, emotionally strong and most importantly, sober all at the same time.

SMASH DANCE, a dance fitness studio in San Antonio, TX, located at 6709 Bandera Rd., has partnered with VOA Texas to offer another method of sobriety. The studio features diverse styles of dance for kids and adults. SMASH has been in the San Antonio area since 2010, founded by Lisa Valdes Romero and her husband, Rob Romero. The best part is, women in the LIGHT program don't have to go anywhere for the class because SMASH comes to them.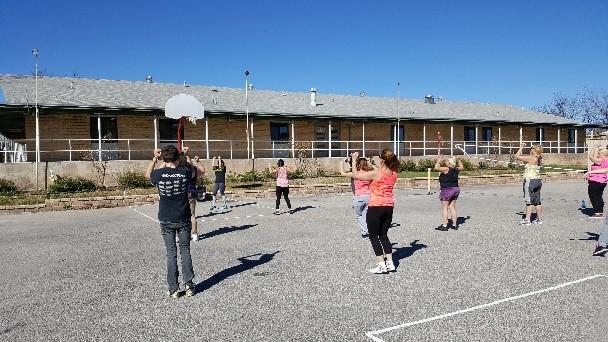 SMASH first became an integral part of the VOA Texas LIGHT Program in 2012, offering free weekly Zumba fitness classes to the women. Currently, Brandy Phillips, SMASH Artistic Director and Dance Fitness Instructor, offers free Zumba fitness sessions to the clients twice a month. NuSMASH Project provides funding for the sessions. They're a nonprofit created by SMASH DANCE to offer free dance classes to shelters in the San Antonio community and dance scholarships to underprivileged kids in the community with the goal of improving self-esteem and raising confidence levels.

On volunteering with VOA Texas LIGHT Program, Phillips beamed, "I completely love it. Their excitement makes me so happy. Doing something for the community really gives me a sense of humility."
The dance instructor admitted that she did not know much about substance abuse treatment and recovery. This is the norm for most people in the San Antonio community, including the family members and loved ones of current clients.

Despite this, Phillips declared what surprised her the most about the women of the VOA' Texas LIGHT program was "all their different personalities." When she arrives to teach on Monday, she laughingly declared that she is prepared for anything.

Ironically, Phillips explained, "I am a shy person in day to day life. But dance has taught me how to be in the limelight and has given me self-confidence." This is the same sense the clients in the treatment program experience as well, making dance such an integral part of their recovery experience.

Phillips recounts what others think about volunteering with women in recovery at VOA Texas LIGHT. "[It's a] very fulfilling experience. There is nothing negative I can say. Go for it! You'll fall in love with it like I have."

For more information on SMASH DANCE San Antonio, visit http://smashdance.net/. To get involved with the NuSMASH Program check click here: http://smashdance.net/nuSMASH-project-/non-profit.html
If you or someone you know would like to seek help from an addiction, visit www.voatx.org/substance-abuse for treatment locations or call (817) 529 – 7300.